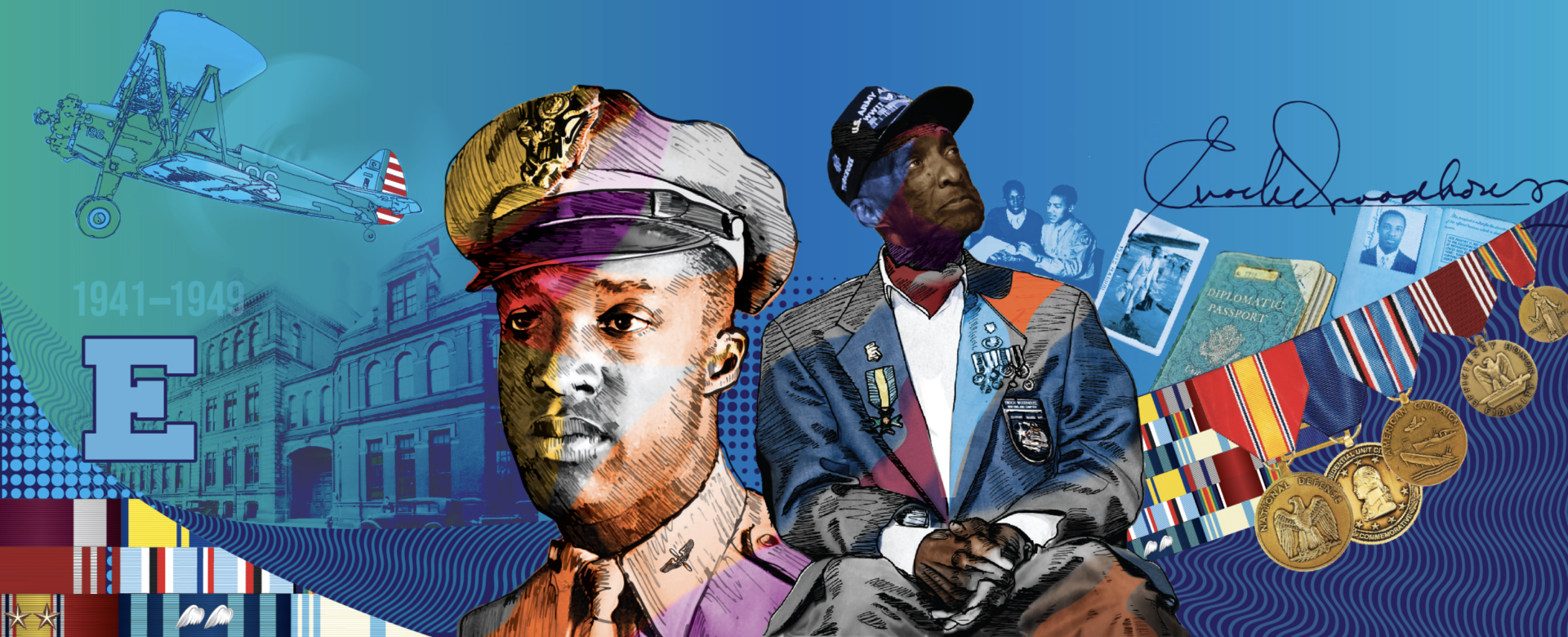 Art and Exhibits
Tuskegee Airmen Honor Wall
Brigadier General Enoch O'Dell "Woody" Woodhouse II and the Tuskegee Airmen
Brigadier General Enoch O'Dell "Woody" Woodhouse II
Brigadier General Enoch O'Dell "Woody" Woodhouse II is the embodiment of hope, unity, and optimism. Born in Boston on January 14, 1927, he is one of the last surviving members of World War II's legendary Tuskegee Airmen, the all-Black fighter pilot unit.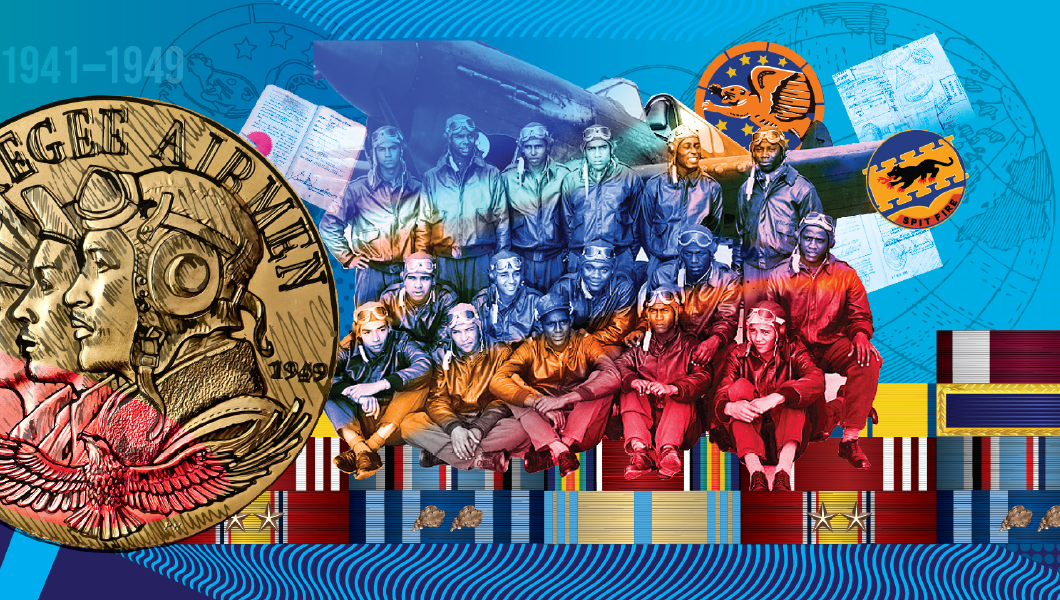 The Tuskegee Airmen
The Tuskegee Airmen were the first African American fighter pilot unit in the U.S. Army Air Corps, which helped pave the way for desegregation in the military. They're also known as the "Red Tails" because of the distinctive color on their fighter planes.
The son of a Methodist minister, Brigadier General Enoch O'Dell "Woody" Woodhouse grew up in Roxbury, MA with the ambition of becoming a teacher, but the attack on Pearl Harbor in December 1941 prompted his mother to ask him to enlist and serve the country.
Woodhouse attended Boston English High, where he joined the ROTC. Before his graduation in 1944, his parents signed his enlistment papers on his 17th birthday to serve in World War II.
Soon after his graduation in 1944, he headed down to Texas to join the Army Specialized Training Reserve Program.
Woodhouse was considered too young to serve in combat, so he was sent to finance school, which led him to become a finance officer for the Tuskegee Airmen. He served as paymaster at Lockbourne Army Airfield, known today as Rickenbacker Air National Guard Base, and his duties included requisitioning vehicle and airplane parts and fuel.
Woodhouse went on to study German, French, and math at Yale University and attended Boston University Law School. After graduation in 1955, he served as a U.S. diplomatic courier in Europe, Africa, the Middle East, and South America for four years. He opened his private law practice in Boston in 1960.
A devout Anglican, Woodhouse is a Master Mason. He served in the Air Force Reserves well into the 1990s. Today, he continues to inspire and motivate young cadets and others with messages of patriotism and hope: "There is no Black history. There is no white history. There is only American history." He also believes "the arc of the moral universe is long, but it bends toward justice."
Thank you to former Governor Charlie Baker, the USO, and creative agency Street Theory for their work in creating this exhibit, and to Brig. Gen. Woodhouse for sharing his incredible story with us.
About the Tuskegee Airmen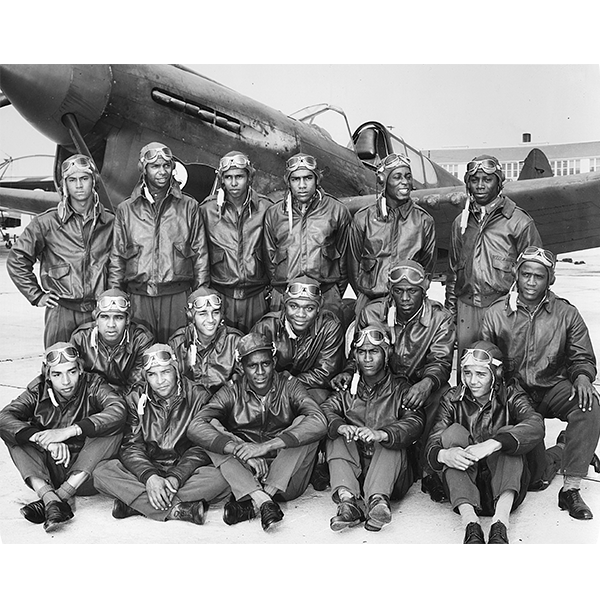 The Tuskegee Airmen became the first African American fighter pilot unit in the U.S. military at the request of President Franklin D. Roosevelt in 1941, when segregation was still prominent in America. From 1941 to 1946, over 1,000 Black pilots were trained at Tuskegee Army Air Field in Alabama. Altogether, 992 pilots graduated from the program.
Known for the distinctive color on the tails of their fighter planes, the "Red Tails" were some of the best pilots in the Army Air Corps. They flew 1,578 missions and 15,533 sorties, destroyed 261 enemy aircraft, and earned more than 850 medals.
Deactivated in 1946, the brave fliers had proved themselves in combat, and their service helped pave the way for desegregation in the U.S. military in 1948. On March 29, 2007, President George W. Bush presented the Congressional Gold Medal to the Tuskegee Airmen.
About Street Theory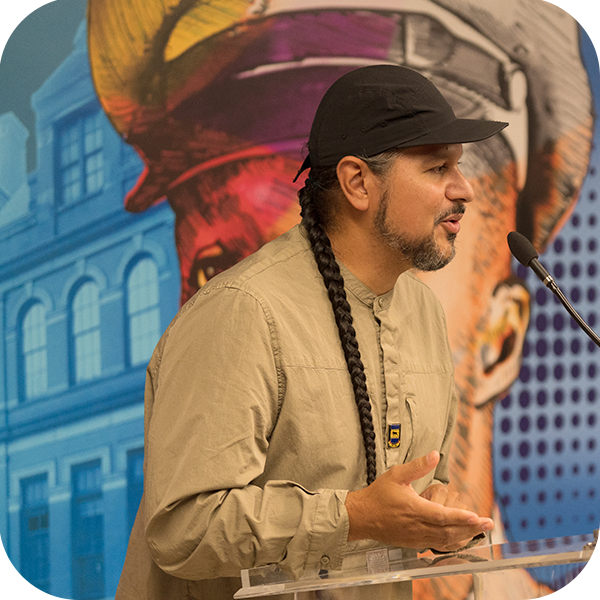 Street Theory is an artist-owned, award-winning creative agency founded by Liza Quiñonez and renowned graffiti/street artist Marka27. Using street art, cultural placemaking, branding, and design, Street Theory brings art and street culture into all aspects of life and work. The agency works with some of today's most talented and influential artists to empower communities through their art.
Learn more about Street Theory and their work by visiting https://www.street-theory.com/.