At Boston Logan, we offer services, amenities and programs to create a smoother travel experience for all of our passengers. Whether you need assistance from our customer service team or you have time to explore and play, we aim to provide easy travel through Boston Logan.
Customer Service at Boston Logan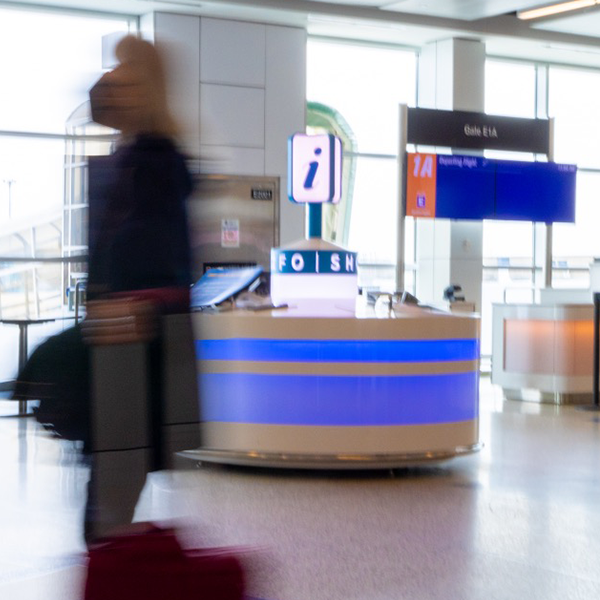 Massport's Aviation Customer Service team is here to help you!
If you need assistance, whether you are planning ahead or already at Boston Logan, customer service agents are available daily from 6:45 AM to 11:00 PM.
To reach our customer service agents via phone, call our toll-free customer service line at 800-23-LOGAN (800-235-6426) and press 0 during the recorded message, or use any of the courtesy phones in the airport terminals and dial *23 (Voice).
To reach our customer service agents via video chat, download the official app of Boston Logan, FlyLogan, on your personal device, or use one of the kiosks at the information booths located pre-security in each terminal. 
The following languages are spoken by the customer service staff: Albanian, Arabic, Armenian, Cape Verdean, Creole, Dari, Farsi, French, Greek, Haitian Creole, Hindi, Italian, Japanese, Mandarin, Nepali, Norwegian, Persian, Pashto, Portuguese, Punjabi, Russian, Spanish, Swedish, Thai, Turkish, Urdu, and Uzbeki. A language translation service is also available as needed.
In Case of Emergency: Call 911
 
Irregular Operations
At Boston Logan, we have a Tarmac Delay Contingency Plan in the event of diversions and irregular operations. This plan institutes a number of customer-focused strategies to make the impact of delays as minimal as possible for our passengers.