At the Airport
Accessibility at Boston Logan
At Boston Logan we are committed to making travel accessible to all our passengers.
From providing accessible transportation options and facilities to working with our partners on security procedures, assistance is available for your journey at the airport.
Accessible Services
When making reservations, advise your travel agent, airline, hotel, and car rental agent of the specific accommodations you will need. It is recommended that you confirm 24 hours prior to your trip.
Terminal directories throughout the airport and our interactive Boston Logan map will help you identify the locations of accessible services and facilities for each terminal, including, but not limited to, elevators, restrooms and animal relief areas.
For more information on passengers with disabilities' rights under the Air Carriers Access Act, refer to the U.S. Department of Transportation's Air Accessibility page.
 
Accessible Facilities
Restrooms and family restrooms are located in all terminals.
All terminals have two levels—upper level for departures and lower level for arrivals. Both levels have accessible ramps from the curbside to the terminal and all terminals have elevators.
Elevators are available in all garages and terminals. All elevators are equipped with emergency call buttons and Braille.
In case of emergency, audiovisual fire alarms and automated external defibrillators are available throughout the airport.
Accessible Transportation
From parking to the T, there are many accessible transportation options to and from Boston Logan. Learn more about how to find your best route to the airport.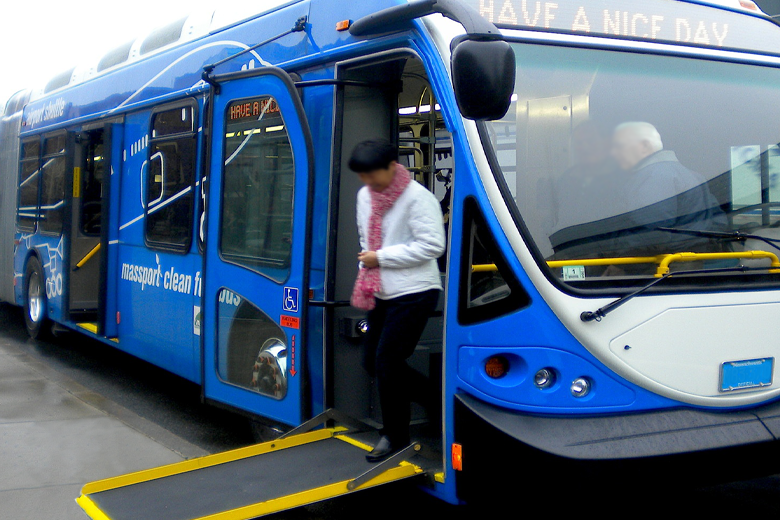 Accessible Security
All passengers, regardless of disability, must pass through security checkpoints before proceeding to airline gates when traveling through Boston Logan. The federal Transportation Security Administration (TSA) operates all checkpoints at Boston Logan. For assistance in preparing for the checkpoint screening process, passengers or their representatives should contact the TSA at www.tsa.gov or call the TSA Cares hotline at 855-787-2227. It is recommended that passengers arrive at the airport early enough to check in with their airline and to complete the security checkpoint screening process.
Only ticketed passengers with boarding passes are allowed beyond the security checkpoints. Travelers with disabilities who need assistance or special clearance to allow medical equipment or services to go beyond the security checkpoint should make prior arrangements directly with their airline.
Passengers with wheelchairs, hearing aids, cochlear implants, service dogs, or other aids should alert security personnel at the checkpoint of their equipment. If an individual with a disability is able to pass through the security system without activating it, the person is not subject to special screening procedures. Security personnel are free to examine an assistive device that they believe is capable of concealing a weapon or other prohibited item.
Service Animals
Service animals are allowed throughout the airport. Animal relief areas are located in each terminal post-security, and on the Arrivals-level curb outside of every terminal. Please see our interactive map for each location.
Meeting Passengers  
Passengers can be met curbside, at baggage claim, or at the security checkpoint. Only ticketed passengers with boarding passes are allowed beyond the security checkpoints. If a passenger with a disability requires assistance to/from the gate or with medical equipment such as oxygen at the gate, a gate pass provided by the airline must be shown at the security checkpoint. 
Sensory/Calming Room
A Sensory/Calming Room is located post-security in Terminal E, providing a safe space for passengers with sensory needs to regulate and acclimate themselves to the experience of traveling. 
Audiovisual Assistance
The Voice Massachusetts Relay System serves voice and TTY callers: 800-439-0183 (Voice). This service allows individuals who are hard of hearing, deaf or have difficulty speaking to use a regular telephone network. The Boston Logan Call Center TTY device telephone number is 800-262-3335.
Massport partners with Aira (pronounced EYE-rah) to help people who are blind and low vision to safely navigate the airport. Aira connects users to live agents via a mobile app and/or assistive smart glasses to navigate every step of the airport, from the curb and check-in area all the way to the gate.
The Wings for Autism program is specifically designed to help ease the stress of flying for families with children on the autism spectrum. Families are able to familiarize themselves with the airport travel and navigation process, and children have a chance to practice entering the airport, obtaining boarding passes at the ticket counter, checking bags, being screened at the TSA security checkpoint, and boarding an aircraft.
Massport hosts this event with the Charles River Center. For additional information, please contact the Charles River Center or email wingsforautism@massport.com.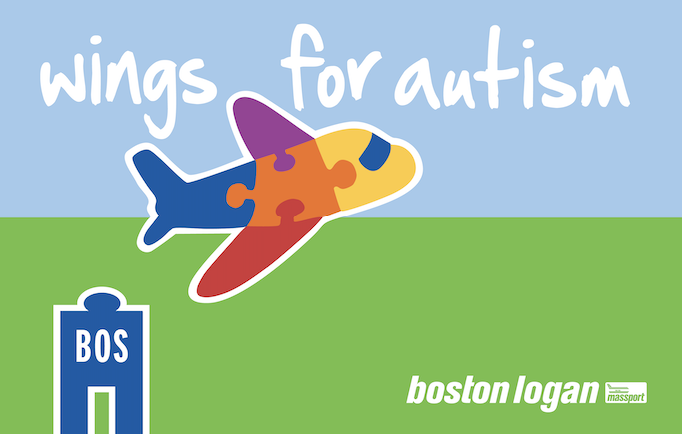 ADA Grievance Procedure
To file a complaint alleging discrimination on the basis of disability in the provision of services, activities, programs, benefits, or facilities of Massport, its tenants, or service providers please visit the below page.