Business
Real Estate and Leasing
Massport owns and operates a wide range of properties, including Boston Logan International Airport, terminals in the Port of Boston, the historic Boston Fish Pier, and a portfolio of maritime industrial and commercial mixed-use waterfront assets. In addition to facilitating the movement of people and goods, we work with our tenants and other business partners to create and expand economic opportunities and jobs in Boston and surrounding communities.
Interested in partnering with us? Whether you are a developer looking to build, a business owner seeking leasable space, a pop-up venue, or an artist wanting to showcase your work on the Boston waterfront, we would love to hear from you.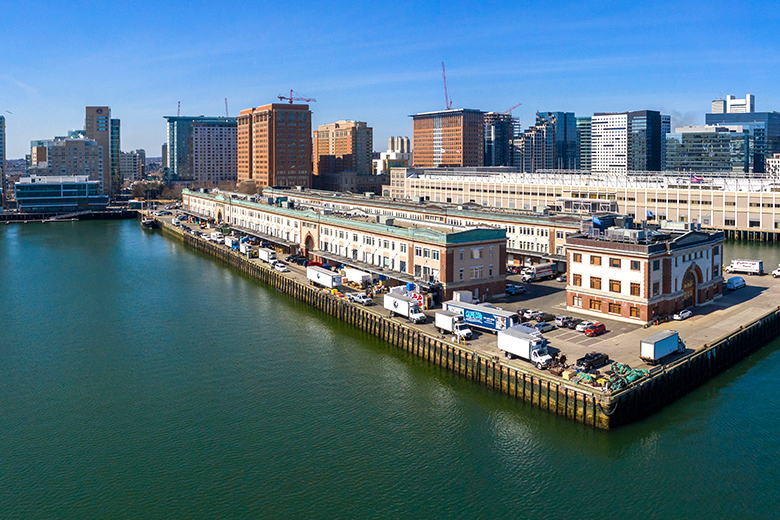 Tenant Stories
Boston Sword & Tuna, South Boston
Boston Sword & Tuna has been part of the South Boston seafood cluster for over 50 years, growing from a small operation at the historic Boston Fish Pier to a major processing and distribution business at their state-of-the-art facility nearby at the Massport Marine Terminal. Boston Sword & Tuna's recent expansion has enabled them to expand their product offerings, grow their national and international customer base, and hire dozens of additional employees.
Tenant Stories
Looking for great food in a beautiful waterfront setting in South Boston? Visit Larry J's BBQ Cafe on D Street in South Boston Maritime Park to enjoy your BBQ favorites with views of Boston Harbor.
Tenant Stories
Humans aren't the only ones who enjoy seafood. From their facility at the Boston Fish Pier, Polkadog works with local fish processors to turn fish skins and other waste cuttings into yummy pet treats. Sustainability and a happy pet!
Our team has worked closely with Massport to realize our vision for the 10 World Trade project and we are excited to see our construction progressing. Thanks to its state-of-the-art design, environmental sustainability, and public open space, 10 World Trade will be a new and welcoming destination in the heart of the South Boston Waterfront. We are truly grateful for Massport's leadership in the built environment and are proud of our collective commitment to diversity, equity, and inclusion as a way to improve our community for the benefit of all.